Class materials: The Oxford Annotated Bible; a note book; down load Dreamweaver for creating web pages; an open mind.
Week One: What is Religion? What is Myth? Understanding the grammar of religious studies: Micrea Eliade's The Sacred and the Profane.
Week Two: Creation myths; Genesis and Native American creation myths. What is your favorite creation myth? Genesis. Click here on an NPR story for an interesting example of tribal culture. All Things Considered, December 7, 2005 · Women's rights in Iraq are a subject of growing alarm for activists and some secular groups. The widely accepted and seldom prosecuted practice of "honor killings" -- in which family members of women who have had extramarital sex have a right to kill her -- is of particular concern.
Bob Dylan's use of the Abraham/Isaac story in Highway 61.
Week Three: Genesis.
Week Four-Five, more Genesis.
Week Six: Book of Wisdom; major paper on Old Testament; other parts of the Old Testament based on student interest. The Old Testament paper will require students to explore one significant motif through four stories of the Old Testament; after this exploration, students will then choose a scene from another work of literature and trace how an author uses the same motif with a similar design.
Week Eight- Nine: New Testament; Gospel of Mark; Click here for a NPR interview of Harold Bloom discussing his new book, Jesus and Yahweh: The Names Divine. Gospel of John; Book of Acts; other Gospel stories. Some motifs to begin our discussion of the New Testament: wilderness, messenger/mentor (John), mountain, water, as well as the general characteristics of prophets. Specifically, if prophets were a combination of their voice and god's voice in the Old Testament, let's begin to observe how Jesus is in body part man and part god. Also follow how he creates cultural friction by going against some of the rules of his day. Finally note how he has extreme powers of empathy.
Week Nine and Ten: What piece of literature should we read to illuminate our new understanding of The Bible? The Da Vinci Code?
Week Ten: Reading The Da Vinci Code with the Bible. Why does The Bible become such a controversial piece of literature?
Profound Paper on a Biblical Pattern. Reflecting on your favorite pattern (yes, you may reach into your archive now and revise one of your previous smaller papers for this work), focus on one pattern (motif) and develop the role of that pattern in four Old Testament Stories as well as two episodes in the New Testament. Finally, in order to prove that your patter has literary merit, reflect on a piece of literature from your previous English classes at Suffield and examine how this motif influenced an author, character literary event.
Great link for understanding more about Micrea Eliade's The Sacred and The Profane.
Sting's song, Mad About You (lyrics), written from the perspective of King David during the affair with Bathsheba. What would Arther D. think of this song? Do you think he had it in his I-Pod? We know he had the tapestry on the wall.
More great imagess from Western Art:
Rubens' Hagar Leaves The House Of Abraham between 1615-17.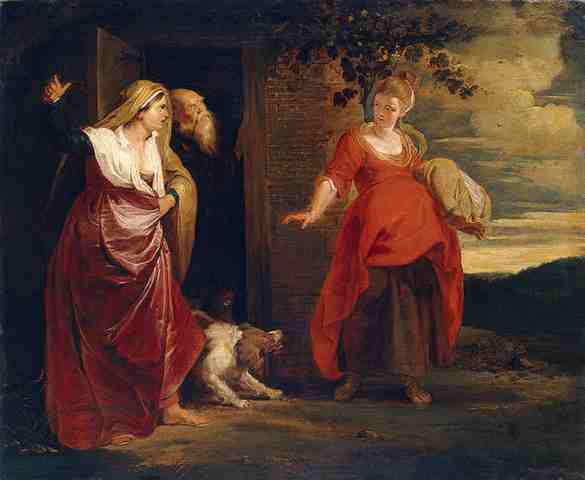 Dan Brown's web page for the novel: The Da Vinci Code:
Major characters:
Robert & Sophie Neveu
Villians: French Police force; Silas