CAIS Technology Conference, July 1, 2004: Digital Storytelling Workshop. Presented by Bill Sullivan

Description: This hands-on workshop introduces the skills necessary to integrate digital storytelling into any classroom. We will explore techniques for helping students discover the story, and appreciate the process by organizing a storyboard (outline of a movie). Participants will then create their own text and storyboard. After recording and editing digital stories, we will then walk through the software steps and blossom the story text into a digital movie. Throughout the process, we will also reflect on classroom management methods to keep students focused and allow the process of filming, editing, and creating personal projects naturally absorb them. By the end of the day, participants will leave with their own story produced during the workshop.
Click here for a Word copy of the welcoming one page handout
---
Outline of the Workshop:

Morning Session:
a) General introduction; view examples of digital stories; discuss the Seven Elements of the digital story, according to the Center for Digital Storytelling;
b) Brainstorming, writing and putting the story through the storyboard process;
c) Recording Voice Over and gathering still images.


Afternoon Session:
d) Producing digital project in the I-Movie Timeline; using the Palette to blend audio, additional digital files, transitions, and special effects;
e) Showing the projects and being mindful of future classroom management methods;
f) Review the process and discuss the possibilities. return to top


NB: Although not a requirement, it may be more meaningful for participants to bring along a draft of a story (one typed page in length), favorite CDs for soundtrack, meaningful digital photos, possibly some digital movie clips, or other multimedia files. We will also provide and explore story prompts to inspire spontaneous development.
---
| | | |
| --- | --- | --- |
| Adjusting Students' Mindset When Using Technology in the Classroom | | |
Adjusting Mindsets; explain and discuss:
Robert Brook's reflection on crisis, danger and possibility; the etymology of resilience.
the buddy system (we're working together on a community class work versus competition for individual grades;
the driver (have students take turns using the lead computer that is attached to the projector and have them voice out loud their problem solving steps);
the good, old advice of relying on intuition for previous the "innovative" technology of mechanical flight: flying by the seat of one's pants;
these projects naturally become student-centered work and the teacher can also engage students to help create the criteria for assessment since technology assignments defy normal grading standards;
these projects allow me to role model my love for learning because there is a good chance that students know more than me in various technology topics.
---
This teacher has some great instructions for organizing the various steps for a digital storytelling project. He is also working with fourth and fifth graders in a public school in Lexington, MA.http://www.infotoday.com/MMSchools/jan02/banaszewski.htm
One can also glean some helpful tips from other web pages; this good tip about hand signals comes from a link off a mentor/mentee page: http://db1.bethsd.org/mt/mentors/archives/000073.html
Overall, it is important to have a trust discussion with students before the groups and individuals go off on their own.
---
Seven Elements of a Digital Storytelling

The Center for Digital Storytelling set an interesting criteria that incorporates the aspects of multimedia. Because multimedia presents so many different ways to present a story, as useful guideline such as this one will help channel and focus students' energies and ambitions.

They have synthesized these seven elements as a way to channel diverse backgrounds and approach the digital storytelling process with a good general guideline. I have had students make I-movies, and I will now begin criteria conversations with these seven elements. The fun begins when you open the floor to students to create the class standards before the project begins.

In the interest of time and convenience, click here for a boiled down version of CDS' seven elements:
Point of View
Dramatic Question
Emotional Content
Gift of Your Voice
Power of Soundtrack
Economy
Pacing
Brainstorming and Outlining a Digital Story
Click here for a great storyboard outline (pdf file) designed by John Lambert.
---
Directions for I-Movie. Before we begin, it is good to sit back and evaluate some I-Movie skills and techniques that you probably already possess. We will be operating moves in a click and drag environment. We will also be working with the Palette and Timeline, so it is important that you understand those features as well as the concepts of importing (images, sound, etc) and Sharing (sometimes referred to as export in previous versions of I-Movie).
---
NB Links and Ideas to prompt reflections and conversations:

General discussion on incorporating technology in a meaningful way:
| | |
| --- | --- |
| How does this cartoon connect to Jim Moulton's keynote address on Monday? | |
General Discussion on Digital Storytelling:
Other Multimedia Links:
Movie "American Jobs" is due out this September; it was created on Greg Spotts' laptop: Here's a CNN link.
Submit your multimedia projects to Transom.org. "Transom.org is an experiement in channeling new work and voices to public radiou through the Internet, for discussing that work, adn encouraging more."
---
Search Tips: try these links on the web to gather multimedia images, files, etc, for your digital story:
---
Copyright Information:
---
Future Story for me to develop:
Test region and future work; the below image is of my paternal grandfather in 1905. The shoes tip off an inconsistency with the rest of the photograph's elements. He is the guy on the left who sent home photographs from Calafornia to his mother in Ct. I think that he got his hands on a lot of props to create a little story to go along with a typical photograph.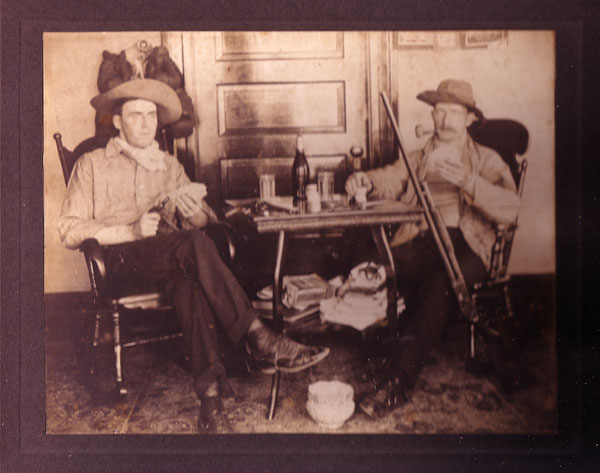 ---
Great Source: I have collected much of the above information from John Lambert, Dana Atchley, Nina Mullen, The Center for Digital Storytelling: They have a great web page in which they present the fundamental steps with the metaphor of a cookbook and display a great movie example as a type of recipe as a goal for the showing the multimedia potentials.