| | | |
| --- | --- | --- |
| | Climbing Historic & Scenic Mt. Holyoke | Join the fun, be a FRIEND and help preserve a local treasure, The Mount Holyoke Range! Friends of the Mt. Holyoke Range is a non-profit organization dedicated to preserving the environment, but more specifically the natural and cultural history of the Mt. Holyoke Range. |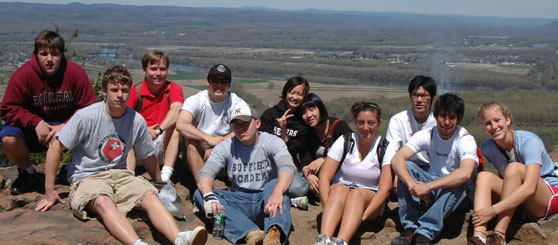 Mr. Sullivan's Elements of Fiction Class Spring 2007
Skinner State Park Info: http://www.mass.gov/dcr/parks/central/skin.htm
Click here to listen to Naturalist Lorrie Sander's short mp3 about the "The Holyoke Range--Art, Literature (several 19th century authors we study in junior year), Nature, and American History." http://www.wfcr.org/field_notes/naturalareas/holyoke_range.mp3
August 30, 2002, Mt. Holyoke's Art Museum's Inaugural Exhibition to Feature Thomas Cole's 1836 Painting The Oxbow. http://www.mtholyoke.edu/offices/comm/csj/083002/oxbow.shtml Thomas Cole's View from Mt. Holyoke, Northampton, Massachusetts, after a Thunderstorm (The Oxbow), 1836, oil on canvas. The Metropolitan Museum of Art, Gift of Mrs. Russell Sage, 1908. The Oxbow is included in the Mount Holyoke College Art Museum's exhibition Changing Prospects: The View from Mount Holyoke, which examines the historical significance of the College's namesake, Mount Holyoke.
http://www.mtholyoke.edu/offices/artmuseum/news/f02/exhibitions.html Changing Prospects: The View from Mount Holyoke; David John Gue, View from Mount Holyoke: The summit of Mt. Holyoke has long attracted visitors, including artists and writers, in search of edification and enjoyment. The second most popular tourist destination in the 19th century, the mountain gained status as a national icon.
Read about how Aunt Emily climbed the mountain with a party that included her sister. http://classiclit.about.com/library/bl-bio/bl-edickinsonchr.htm
Mount Holyoke, Massachusetts, "the Paradise of America" - Current and Coming: http://findarticles.com/p/articles/mi_m1026/is_3_162/ai_91088102
Mt. Holyoke Historical Timelines: great site for the history of the mountain; has many links for maps and historical documents (maps). http://www.chronos-historical.org/mtholyoke/index.html
Scenic America: (http://www.scenic.org/) "Throughout the country, our most cherished scenic resources and hometown assets are being obscured by a blizzard of monstrous billboards, badly sited telecommunications towers, a tangle of overhead lines, and a hodgepodge of visual clutter. Open space is being lost. Our natural and cultural heritage is being buried under unconstrained development and poorly designed transportation systems."
SAVE THE MOUNTAIN! "We are a group of citizens dedicated to the protection and preservation of the Mt. Holyoke and Mt Tom Ranges of western Massachusetts." http://www.savemtholyokerange.com/
---

Artwork is a canvas of the soul, a medium of words or a brush stroke, an unspoken legacy of history. For two centuries the splendor of the beautiful scenery from Mount Holyoke has drawn artists and poets to capture its diverse terrain and remarkable sense of history. Mount Holyoke was a center of attraction for tourists in the early 1800's; its popularity was not only due to the variety of views overlooking the magnificent landscape along the Connecticut River, but also a natural phenomenon known as the oxbow, a river that forms a distinct curved shape.
As I venture up the stretch of trail along the ridge of the Mount Holyoke Range, the realization that famous artists were inspired by such a beautiful place and left their now faded footsteps under mine, filled me with an overwhelming sense of awe. Emily Dickenson, a famous American poet who attended the women's seminary now known as Holyoke College, and Thomas Cole, who painted one of the most remarkable landscapes in America after a thunderstorm "The Oxbow," both viewed the valley of cultivated plains that were edged by a forest wilderness. My journey up to the mountain top, as breathtaking and gratifying, was marked with historical change overlooking a society that continues to grow and develop. The hike up a section of the Mount Holyoke Range called the Seven Sisters, is a series of tightly packed and often steep ascents and descents. From the west of this notch of the range there are two panoramic views. Looking to the north, I can see over Hampshire College and the University of Massachusetts to a horizon that stretches all the way to Vermont and Mount Monadnock in New Hampshire. To the south, I can see the runways of Westover Air Force Base in Chicopee and beyond the view of the tallest buildings in Springfield and Hartford, Connecticut.

Early in 1851, a well known Swedish diva named Jenny Lind, described the region around Mount Holyoke as "the Paradise of America." She and many other artists and writers including; Ralph Emerson, Nathanial Hawthorne, and Henry Longfellow, saw the true natural beauty of a combination of wilderness and cultivated landscape of Mount Holyoke that symbolized a place on earth that was unspoiled and inspirational. It was also a time that proved that people could coexist with nature and appreciate that it could be both peaceful and powerful. Climbing further to the top at just over 1,000 feet, I also felt in tune to what drew these special people to this special place. The breeze catches my breath off guard as I enter the wooded area where there is no break in the trees. Eventually, the forest breaks open into a new ecosystem of grassland and many short ups and downs of several lookout points that provide a new perspective on the world below. The canvas of nature surrounds me, I'm breathless.
At the bottom of the last decent, I cross a small access road to the Summit House, which is now a museum with a few reserved rooms. This historic building was originally constructed as a simple log cabin to accommodate tourists in 1821, and was replaced by a hotel with a dining room, six bedrooms and an observatory with a telescope in 1851. Unfortunately, its life as a hotel was ended by the Great Hurricane of 1938, and today the only way to get to the Summit House is by foot or car. Even an incline railway was added in 1854 to carry visitors from the carriage road to what became known as the Prospect House. The summit captures the spirit of wildlife and nature; I recognized oak and hickory trees below the southern slope and hemlock, white pine, birch, beech and maple on the northern face.

Mount Holyoke is unique to the New England territory because it is one of the few ranges that run east and west, a result of lava that cooled and was upended after it flowed from the valley floor over 200 million years ago. I can see where the glaciers left their mark, smooth mountain edges and scoured jagged edges. Its breathtaking beauty may have been formed by nature; however, its existence in history has been created by the people who have captured its grandeur with their words, artwork, and footprints. My path is now a part of this special place where history has united civilization with wilderness, sunshine with storm clouds, and rugged mountains that overlook a tranquil valley.